SANTA BARBARA WEALTH MANAGEMENT TEAM
MEET THE  WEALTH MANAGEMENT TEAM
Hannah Buschbom*, CFP®, CDFA®,  CFF®
CA Insurance Lic: 0I05704
Chief Transitional Wealth Advisor
Hannah can be reached at:
Email: [email protected]
Direct Line: 805-770-1356
Hannah Buschbom CFP®, CDFA™, CFF® is a Wealth Advisor at The AmeriFlex Group. She has over a decade of experience working in the financial services industry. Her specialty is working with people, especially women, during a significant life transition, such as retirement, sale of a business or real estate, change in marital status, or loss of a loved one.
She enjoys engaging clients cooperatively, to develop creative solutions to their often-complex scenarios together. This method, she says, leads to their preferred outcome– "My ultimate goal is to enable clients to be better educated, and in turn to make confident and informed decisions."
In her search for connections to educate and serve her clients better, Hannah noticed a lack of a centralized way for women to establish and strengthen powerful relationships with other women business leaders in their communities. By Co-Founding The W Source, she helps female professionals tackle this challenge by providing a way for them to connect, engage, and grow their professional networks.
Hannah holds the CERTIFIED FINANCIAL PLANNER™ (CFP®) certification – the gold standard for financial planning in the financial services industry. Also, Hannah noticed early on in her career that those grappling with the complexities of divorce settlements could benefit from the help of a specialized, trusted advisor. Wanting to fill this void, she pursued and obtained her Certified Divorce Financial Analyst Designation®. Finally, wanting to provide the highest standard of care for clients, she holds the Certified Financial Fiduciary (CFF®) designation.
As a featured speaker, Hannah frequently shares her expertise with other female professionals. She has contributed to Barron's Magazine, Financial Advisor magazine, Investment News, Financial Planning Magazine, and Wealth Management.com.
In 2019, Hannah was named "Grassroots Champion of the Year"* by Financial Services Institute (FSI). FSI advocates for a more business-friendly regulatory environment for independent financial services firms and independent financial advisors in Washington D.C. The award is given at the discretion of FSI.
* Third-party rankings and recognitions are no guarantee of future investment success and do not ensure that a client or prospective client will experience a higher level of performance or results. These ratings should not be construed as an endorsement of the advisor by any client nor are they representative of any one client's evaluation.
Birthplace: Mission Viejo, CA
Favorite childhood memory: My parents are both professors, so my favorite childhood memory was traveling around the world with my family.
Passions: I have a passion for helping others. In the past, I have spent much of my volunteer efforts with Team in Training, a sports endurance team that benefits the Leukemia & Lymphoma Society, the Junior League of Santa Barbara, and served on the board of a local dog shelter.
Hobbies: I still love to travel, now mostly with my husband. We always come back with a new recipe to try. We love to host dinner parties featuring a unique recipe or food.
Personal life: In August of 2014, I married my best friend, Brett Buschbom in the US Virgin Islands. We enjoy spending time with our rescue dogs, Lily and Bo!
Favorite quote: "There's nothing to fear but fear itself … and spiders." – Unknown
Diana Heu, MBA
CA Insurance Lic: 0H10202
Partner/Wealth Manager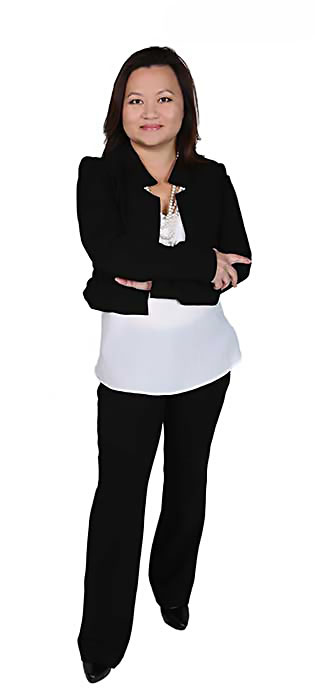 Diana can be reached at:
Email: [email protected]
Direct Line: 805-770-1354
Diana Heu is responsible for the overall management of a group of high net worth clientele, which includes financial/retirement planning, asset management and durable income strategies. She is also the OSJ Delegate, primarily responsible for compliance and supervisory tasks within the branch and satellite offices and serves as the Acting Chief Information Officer for AmeriFlex®.
Ms. Heu received dual Associate Degrees in Economics and Business Administration from Santa Barbara City College and a BA in Business Management from The University of Phoenix. She went on to obtain an MBA in Financial Planning from California Lutheran University in Thousand Oaks, California. Prior to her tenure with AmeriFlex®, Ms. Heu acquired over fifteen years of experience working in the medical manufacturing and engineering fields, where she gained expertise in quality and configuration management, auditing and process improvements. Ms. Heu currently holds FINRA Series 24, 7 and 66 securities licenses including a California Life and Health Insurance license and is also a California Notary Public.
When asked about what makes AmeriFlex® a great company, Diana is quick to point out that "It's a place where all team members are encouraged, empowered and supported in their professional growth. We pride ourselves in providing our clients with superior service by combining old fashion service with technology. I love to listen to my clients' stories, goals and aspirations, and helping them achieve their financial goals."
Birthplace: I was born in Thailand, but grew up in Santa Barbara County and consider Santa Barbara my home town.
Favorite childhood memory: I lived in Isla Vista as a child and remember it to be a quiet little beach town. I would ride my bike with friends down to the store where I could buy ice cream cones for 15 cents, roll down the hill in the park or swim at the beach and play without a care in the world!
Passions: I love movies, especially ones that I attend with my children. My interests range from The Lion King to The Matrix. It's fun to unleash my inner film critic and discuss a new release with family and friends.
Hobbies: I love to play tennis, golf, hike, go bowling and relax over coffee at the local marketplace near my home.
Favorite quote: "If you can dream it, you can do it." – Walt Disney
Natalie White
CA Insurance Lic:
AmeriFlex® Premier Concierge
Natalie can be reached at:
Email: [email protected]
Direct Line: 805-770-1354
Natalie double majored at UC Santa Barbara in Communication and Art History. She was driven to the communication major because of the many situations she experienced in which she believed the outcome could have been improved with clear and genuine communication. Improving communication in the workplace and with clients is the primary motivation for her active application of the skills she learned, as well as her continuing research in the field. Natalie also studied art history because of her lifelong passion for the arts. She is knowledgeable on a variety of artistic practices with a focus on contemporary and fiber art. Natalie won an excellence in writing award for her work on the generational quilting traditions of African Americans communities. Natalie now assists Hannah Buschbom with both AmeriFlex and The W Source. As Hannah's First Impressions Manager, Natalie is responsible for office management and creating a personalized experience for every individual that comes our way. Natalie is excited for the opportunity to bring her experience and perspective to the table, and even more excited to learn everything and anything she can from the successful women around her. Natalie is a communication specialist with experience in interpersonal communication, group communication, corporate social responsibility, as well as Diversity, Equity, and Inclusion. Her goal is to make communication effective and efficient in all facets of her life.
Birthplace:
Favorite childhood memory:
Passions:
Hobbies:
Favorite quote: